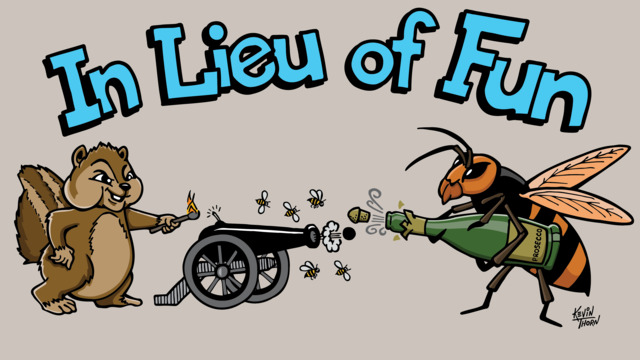 Logo created by Kevin Thorn of NuggetHead Studioz, used here with gratitude and permission.
🦠 In 2020, we were stricken by a coronavirus pandemic. We aren't allowed to have fun anymore; but in lieu of fun, you can grab a beverage of your choice and come hang out with us, your hosts Ben Wittes, Kate Klonick, Scott Shapiro, and Genevieve DellaFerra every weekday (formerly daily) at 5:00pm US Eastern time.
In Lieu of Fun is a casual, unstructured webcast that broadcast daily (with one exception) from March 25, 2020 through July 2, 2021; and every weekday since then. We talk about news, law, life, art, squirrels, murder hornets, Baby Cannons, and whatever else may come up. On most weekdays there are pre-announced guests.
---
How to Find Us: Episodes are streamed live on Crowdcast, YouTube, and a variety of other streaming platforms. You can find links to recordings of past episodes from the Episode Log. Audio-only versions of some episodes are also available on Acast.
---
---
Join the Order of the Baby Cannon! You can now get your own In Lieu of Fun mugs, clothing, and more from the Revolution Art Shop! All proceeds from ILoF paraphernalia go to support World Central Kitchen.